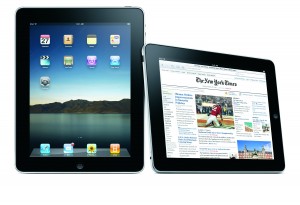 In the last 9 months, somewhere north of 10 million iPads have been sold.  That's a pretty big number.  Even for Apple. Not being an iPad owner (yet) I wondered, "What's the big deal?" And, "Who's buying these things?"  We like technology, but what is everyone so jazzed about?  
One could assume that the jazzed include only the hip or uber-tech-savvy. Or that the iPad is strictly the domain of Generation Y. You might even think that, as a 2nd Halfer, an iPad isn't a good fit for you. Or that it's just a toy. Based on some recent interviews, those thoughts & assumptions are wrong, wrong, wrong, and, yes, wrong.
Interestingly, we found that iPad users … scratch that … iPad LOVERS … include tons of 2nd Halfers.  Why? I have my opinions, but it's better to hear it from real users.  And better to hear it in our favorite coffeeshops.
Kim, 52, describes her technical prowess as "average". While our first host, Rev Coffee in Smyrna, GA, has a coffeehouse prowess of "awesome."  Tim, 48, is very technical.  We met at Woodstock CoffeeHouse in Woodstock, GA, who promises 'good times great coffee.'  They deliver … big time.
Kim and Tim make some fairly profound observations about the iPad, how they're using it, and what it means to them. A couple of one-liners blew me away.
When you're done watching … both Rev Coffee & Woodstock Coffehouse have Facebook fan pages. Check 'em out.  Or, better still, go in person and have some delicious joe. Bring a friend. And both Rev & Woodstock have Wi-Fi, so bring your iPads too.